Literatur zu MAXQDA: Bücher, PDFs und Veröffentlichungen
Die auf dieser Seite zusammengestellte Übersicht von Büchern und MAXQDA Literatur zur qualitativen Datenanalyse und Evaluation bietet Ihnen praxisnahes Wissen zu Arbeitstechniken beim Einsatz von MAXQDA, ebenso wie zur methodischen Einbettung Ihrer Analyse. Profitieren Sie auch von den kostenlosen Download-Angeboten. In den kostenfreien MAXQDA-Handbüchern werden zudem alle Funktionen von MAXQDA ausführlich erklärt.
Weitere kostenfreie Literatur finden Sie auch auf MAXQDA Press, dem Buchverlag von MAXQDA!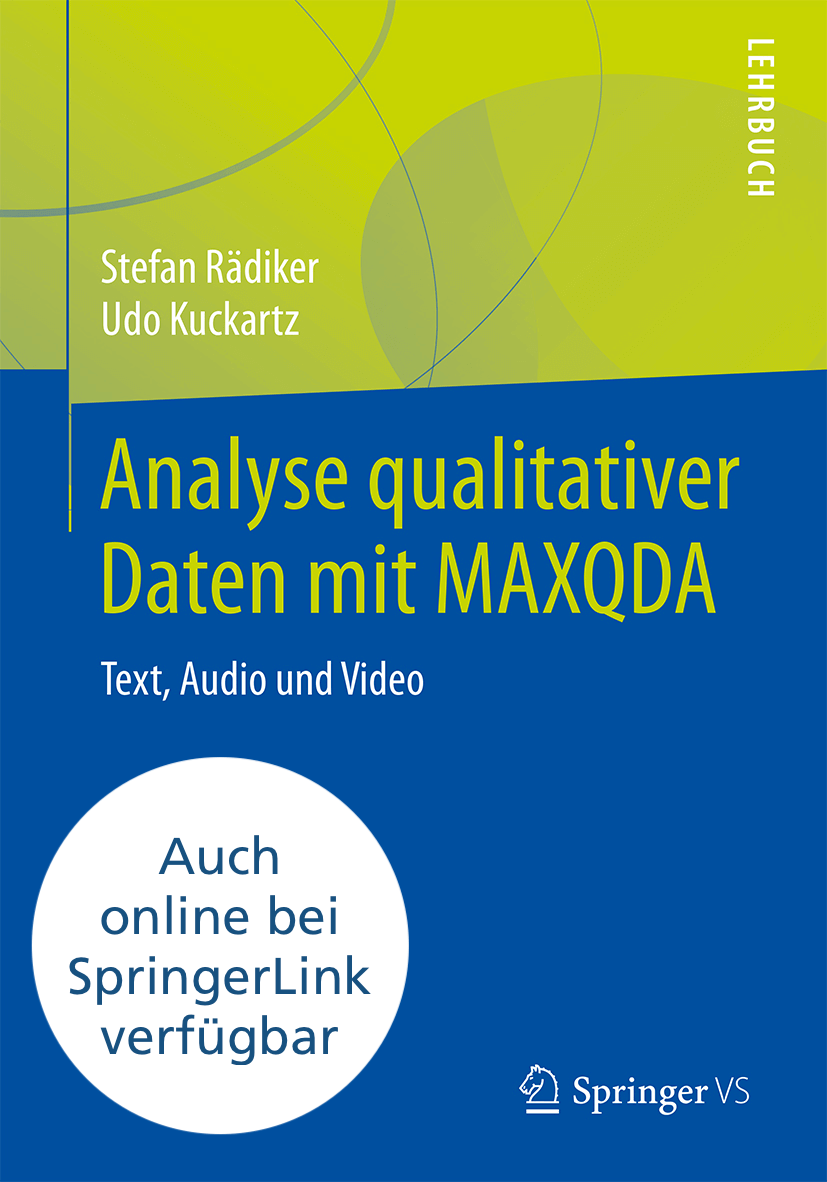 Analyse qualitativer Daten mit MAXQDA: Text, Audio und Video
Stefan Rädiker / Udo Kuckartz 1. Auflage, Springer VS 2019, 317 Seiten
Dieses Buch vermittelt auf verständliche Weise das Wissen, um qualitative und Mixed-Methods-Daten mit MAXQDA auszuwerten. Die Autoren verfügen über jahrzehntelange Forschungserfahrung und decken in diesem Buch ein breites Methodenspektrum ab. Sie beschränken sich nicht auf einzelne Forschungsansätze, sondern vermitteln das Know-how, um verschiedene Methoden – von der Grounded Theory über Diskursanalysen bis zur Qualitativen Inhaltsanalyse – mit MAXQDA umsetzen zu können. Darüber hinaus werden spezielle Themen fokussiert, wie Transkription, Kategorienbildung, Visualisierungen, Videoanalyse, Concept-Maps, Gruppenvergleiche und die Erstellung von Literaturreviews.
Aus dem Inhalt
Wie MAXQDA optimal in jeder Phase Ihres Projekts genutzt wird
Wie Daten transkribiert, exploriert und paraphrasiert werden
Wie Sie Daten codieren und Kategoriensysteme gestalten
Wie Sie mit Memos, Variablen und Zusammenfassungen arbeiten
Wie spezielle Datenarten analysiert werden (Fokusgruppen, Online-Surveys, Literaturangaben etc.)
Wie Sie effizient im Team Daten mit MAXQDA analysieren
Lesen auf

Weitere Informationen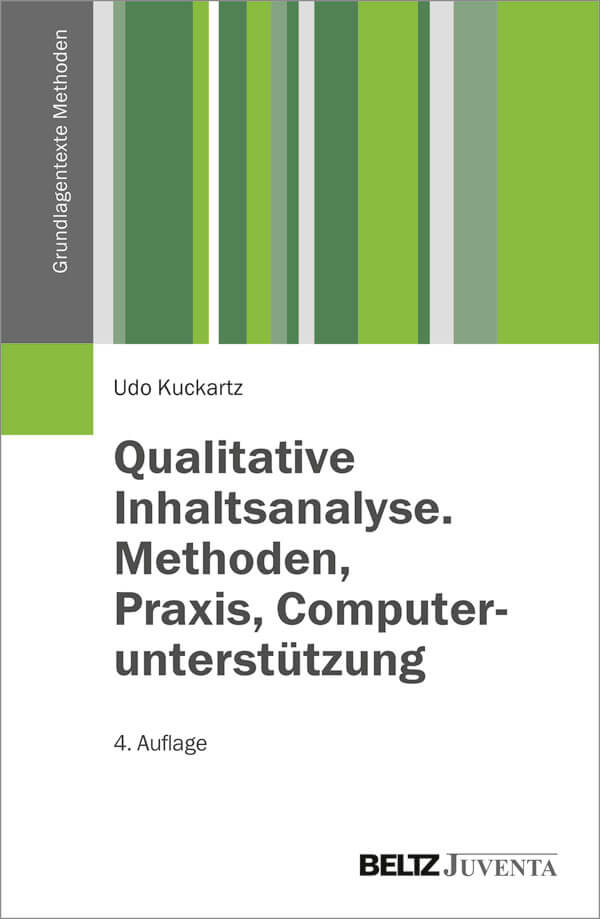 Qualitative Inhaltsanalyse. Methoden, Praxis, Computerunterstützung
Udo Kuckartz 4. Auflage – Beltz Juventa 2018 – 240 Seiten
Interviews, Gruppendiskussionen oder Feldnotizen systematisch und kontrolliert auswerten? In diesem Buch werden drei Basismethoden qualitativer Inhaltsanalyse im Detail vorgestellt: die inhaltlich strukturierende, die evaluative und die typenbildende qualitative Inhaltsanalyse.
Auf der Begleitwebseite qualitativeinhaltsanalyse.de werden viele Materialien und Schaubilder des Buches zum Download bereitgestellt.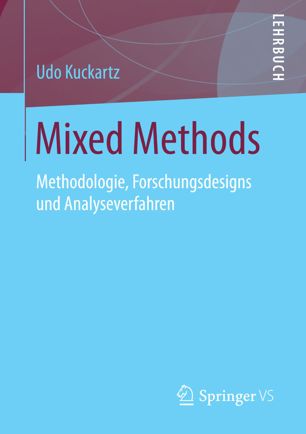 Mixed Methods: Methodologie, Forschungsdesigns und Analyseverfahren
Udo Kuckartz 1. Auflage – VS Verlag 2014 – 162 Seiten
Mixed-Methods-Ansätze gelten mittlerweile im angelsächsischen Raum als "drittes methodologisches Paradigma", das die Dualität von qualitativen versus quantitativen Ansätzen produktiv überwindet. Der vorliegende Band macht mit dem Methodenverständnis der Mixed-Methods-Forschung vertraut und gibt eine praktische Einführung in die verschiedenen Designformen und Analysemethoden.
Lesen auf

Weitere Informationen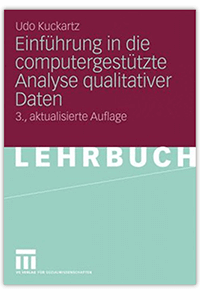 Einführung in die computergestützte Analyse qualitativer Daten
Udo Kuckartz 3. aktualisierte Auflage – VS Verlag 2010 – 269 Seiten
Dieses Buch gibt einen Überblick über die Arbeitstechniken computergestützter Analyse von qualitativen Daten, diskutiert die zugrunde liegenden methodischen Konzepte (u.a. die Grounded Theory und die Qualitative Inhaltsanalyse) und gibt praktische Hinweise zur Umsetzung.
Lesen auf

Weitere Informationen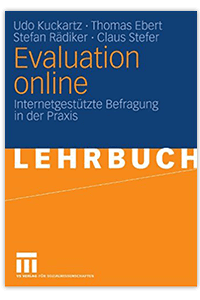 Evaluation Online. Internetgestützte Befragung in der Praxis
Udo Kuckartz / Thomas Ebert / Stefan Rädiker / Claus Stefer 1. Auflage – VS Verlag 2008 – 128 Seiten
Dieses Buch gibt eine detaillierte und praxisnahe Einführung in die Konzeption, Durchführung und Auswertung von Online-Befragungen mit Mixed Methods.
Lesen auf

Weitere Informationen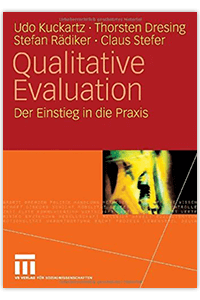 Qualitative Evaluation. Der Einstieg in die Praxis.
Hrsg.: Udo Kuckartz / Thorsten Dresing / Stefan Rädiker / Claus Stefer 2. aktualisierte Auflage – VS Verlag 2008 – 119 Seiten
Am Beispiel eines von den Autoren realisierten Evaluationsprojektes führt dieses Buch in die Planung und praktische Durchführung von qualitativer Evaluation ein.
Lesen auf

Weitere Informationen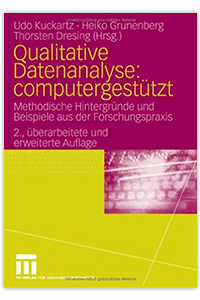 Qualitative Datenanalyse: computergestützt.
Hrsg.: Udo Kuckartz / Heiko Grunenberg / Andreas Lauterbach 2. aktualisierte und erweiterte Auflage – VS Verlag 2007 – 263 Seiten
Dieses Buch beleuchtet den Einsatz von Analysetechniken aus der Sicht der Theorie und Praxis und gibt exemplarische Beispiele für den qualitativen Forschungsprozess.
Lesen auf

Weitere Informationen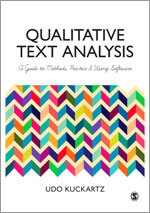 Englisch

Qualitative Text Analysis. A Guide to Methods, Practice and Using Software
Udo Kuckartz Sage Publications 2014 – 192 Seiten
Qualitative Textanalyse eignet sich für verschiedene Datentypen. Dieses Buch bietet eine erstklassige Einleitung in die methodische und theoretische Arbeitsweise. Insbesondere konzentriert es sich darauf wie man Software benutzen kann, von der Transkription bis hin zur Presentation und Visualisierung der Ergebnisse.
Literatur zum Download

Udo Kuckartz
Wie werden Interviews und Gruppendiskussionen/Fokusgruppen transkribiert? Wie sieht ein Muster für ein einfaches Transkriptionssystem/einfache Transkriptionsregel aus?

Udo Kuckartz
Woran lässt sich die interne Studiengüte festmachen oder prüfen? Welche Fragen sollten in einem ausführlichen Methodenkapitel beantwortet werden? Was ist bei der Erhebung und Auswertung von Daten zu beachten?

Udo Kuckartz
Wie werden Forschungsberichte, Bachelor- und Masterarbeiten und Dissertationen aufgebaut? Wie fließen Zitate in die Ergebnisdarstellung ein? Was gehört zur Projektdokumentation, zum Anhang bzw. zur digitalen Anlage?
Artikel und Veröffentlichungen von MAXQDA Anwenderinnen und Anwendern
Im folgenden finden Sie in alphabetisch sortierter Reihenfolge eine Liste von Veröffentlichungen, die uns von MAXQDA Anwenderinnen und Anwendern zugesandt wurden. Die Aufstellung gibt Ihnen einen Einblick in das breite Spektrum der Anwendungszusammenhänge und Methodenansätze in denen MAXQDA eingesetzt wurde und wird. Etliche Einsender sind damit einverstanden, dass Sie Kontakt mit Ihnen aufnehmen. In diesem Fall finden Sie im Anschluss an die Literaturangabe die Kontaktdaten der Autorin / des Autors.
Wenn Sie Ihre Arbeit mit MAXQDA veröffentlicht haben und in unsere Referenzliste aufgenommen werden möchten, kontaktieren Sie uns (info@maxqda.de)! Wir freuen uns, Informationen in der Community der MAXQDA User weiterzugeben!